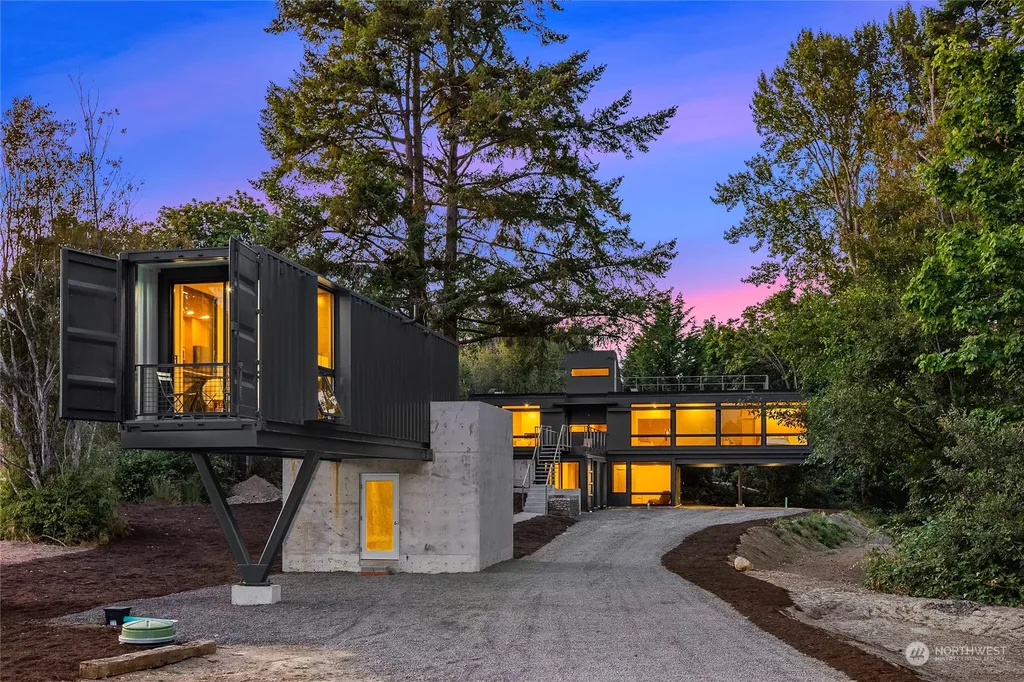 Exquisite modern home + ADU on the island's sunny south end. Sited on 2.52 acres. Includes a tiny-house inspired ADU created by elevating a shipping container and has everything needed and nothing more. This elegant compound is like nothing you have seen on Bainbridge Island; a one-of-a-kind gem built with the intention of net zero living, human health, and connectivity. See more…
Hand-made lighting for Bruciato's Restaurant; Bainbridge Island. Combination of cold rolled steel, mild steel and bronze. All lights were welded on site to form a 72' long single "pendant light" along back of restaurant and a 23' cable supported pendant over the bar. See more…
This custom gate is 10,000 pounds of COR-TEN steel. At its thinnest it is 1/2″ and at its thickest, it's 5-1/2″ of solid steel. A beautiful negative space creation. See more…
Designed by the client, a paper drawing was transferred onto two 10′ x 12′ panels using an overhead projector. It was then hand cut in duplicate. Mounted inside a steel frame and encapsulating ¾" aqua green acrylic. Some of the best sliding doors we have ever made. See more…
This was a small series of 20' containers placed on concrete piles to create a shop/studio space. Large glass doors and a circular staircase gave the owner bright light and deck space for painting.
Steel Ladder – traditional "ship's ladder" made of mild steel and then "blackened" to darken the steel after completion. See more…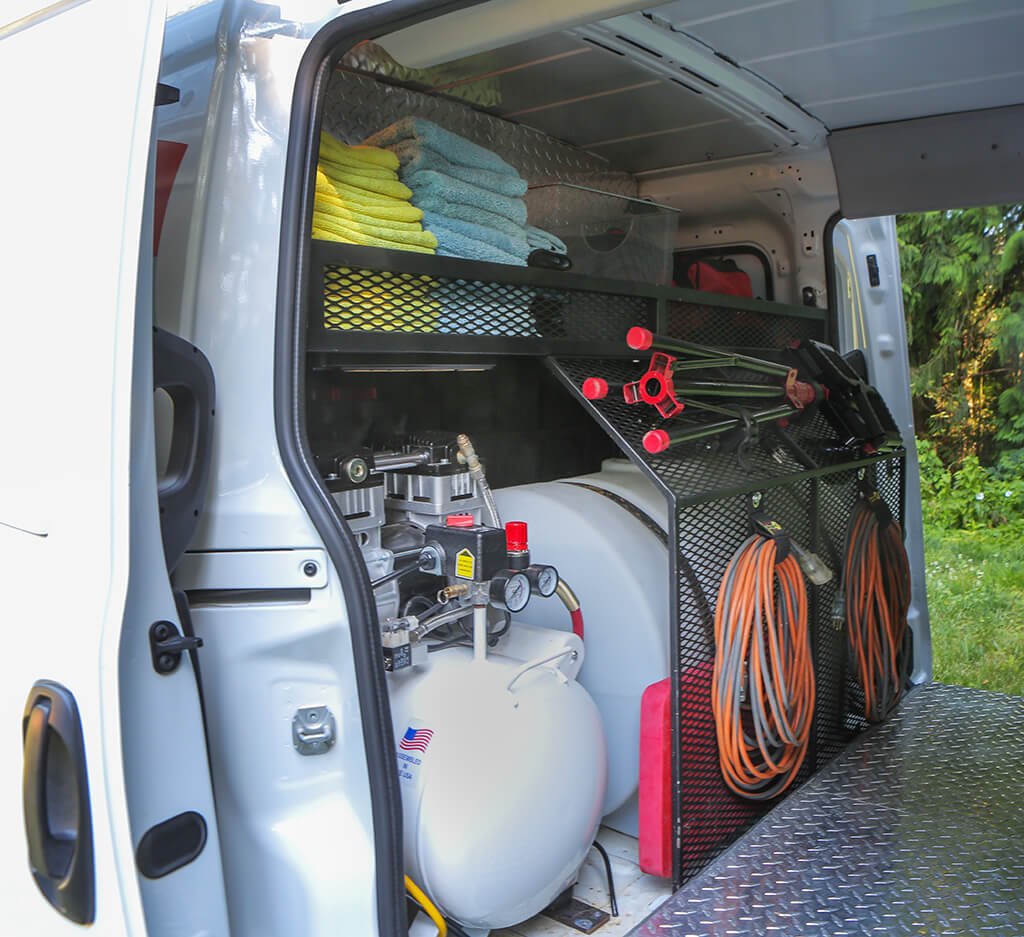 Work Van Fabrication – by Camryn Rogers. See more…
This started out as a very sad 1976 Triumph Spitfire. It's been completely restored, all body work, paint and interior. The owner then wanted something special… a Tesla electric conversion, plus keep it a 4-speed for "nostalgia's sake," but the original 4-speed wouldn't hold up to the electric motor torque. Now it has a 1998 mustang Cobra tranny instead. Everything handmade in-house. Interior and paint done partially in-house. See more…
Vesta-Grills are part of our side business with Brendon McGill of Hitchcock, and featured in Seattle Met. We've produced 12 of these 800 lb monsters as a standard, plus others of custom size and shape. See more…
A traditional front entry gate for an HOA home given small detail to make it stand out.
Custom planter boxes made of 1/8" steel, hand-formed with a little blacksmithing embellishment.
24 foot radius railing for a prominent South Bainbridge Island home, lifted over 120 feet into place with a crane and built to match existing railings.
Beautiful "small home" concept with a grand room feel. Built from steel I-beam structure and completed with core-10 and galvanized steel accents. See more…
Large steel and glass, double bifold door for Sotheby's Real Estate. Door spans 22ft with hinges in four places and single hinge points. Reclaimed hinges from decommissioned Fort Ward building on Bainbridge Island. See more…
18 gauge blackened steel wrapping "aged" mahogany reclaimed wood. See more…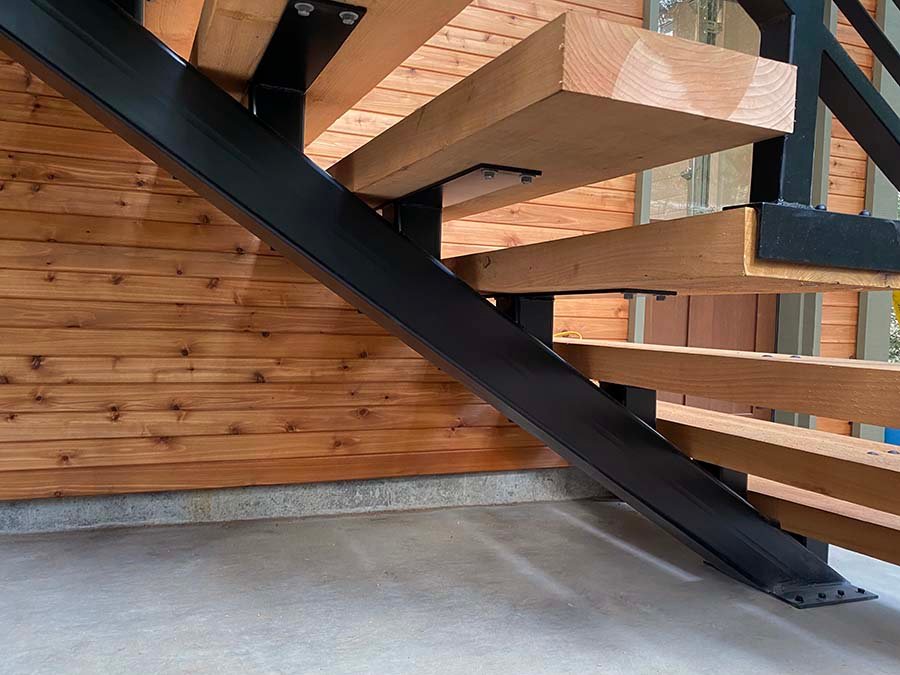 Floating staircase and entry. Of course all the metal work is ours, but this time I got to do the woodwork too! 3" rough cut cedar from a tree on the property. See more…
10,000 pounds of COR-TEN steel, at its thinest it is 1/2″ and at its thickest, it's 5-1/2″ of solid steel. A beautiful negative space creation. See more…
This building itself was erected at the same time the "historical" Navy Transmitter Radar Station was built. The hinges and latches were all reclaimed from that building when it was decommissioned and reissued here for historical context. See more…
Jeremy built this bike in one week for a TV show called "Pinks," which aired on The Discovery Channel. It was raced against a Harley-Davidson V-Rod Destroyer that held the land speed record… Best 2 outta 3, beat 'em Round 1. Round 2 they got us… Jeremy did a bunch of shenanigans at the start line and basically set the bike on fire (unintentionally) and they were disqualified. But it was fun! See more…
Something delicate I like to do when frustrated… Taking the permanence of steel and making it emulate the delicacies of nature. A rose that never wilts.
Handles for the 12' x 12' pocket doors made of steel and reclaimed pallet wood. Handles are hand blacksmithed from solid 1" round stock.
Hand forged, textured and riveted railings for a bridge over the river everyone has running in front of their house. Finished in a blackened galvanized for exterior longevity.
Cut and inlays placed on multiple levels to give depth.
An art piece that explored geometry and symmetry just to see if I could actually pull it off. Turned out alright, I think. See more…
Here are production pieces for clients who had "rough" ideas of what they wanted and allowed us the run with our conceptual "gut" producing some cool results. See more…
A little visual fun with materials laying around the shop.
All COR-TEN steel around a modern style home located in the greater NW area. Exterior railings are all 316 stainless steel and TIG welded, in-house and onsite. A total of 217 hours went into the hand fabricated exterior railings. See more…
This Range Hood and Countertops are hand formed zinc for a warm feeling metal and a food grade work surface. The hood has decorative rivet accents and was patina-aged to give it some character and texture. The countertops are 18 gauge zinc, TIG welded and formed over a marine grade plywood. See more…
A mixture of traditional TIG welding and old-skool blacksmithing / forging helped create these unique railings per the client's design. See more…
100 foot floating awning that spans eight feet from the face of the house. Installed on both front and rear facades. Bronze acrylic panels with midnight blue powder coating. Stainless steel cable tiebacks finish the installation. See more…
A large steel moment frame build and installed so the client could remove a load-bearing wall to create an open concept living space.
Lighting fixture made of ½" round stock for Van Lumen Light Design. Long radius curves bent using traditional sand cast methods.
Mimicked a "rivet" look on hand hung ¼" plate steel panels behind a renovated propane stove. Home circ. 1940s. See more…
3 floors of modern custom curves, requiring welding, blacksmithing, hand forming, and a lot of onsite welding and fitment.
This custom 20 foot shop door was our very first job for Fairbanks Construction. Under a deadline, and completed in six days. Inset with opaque green acrylic panels.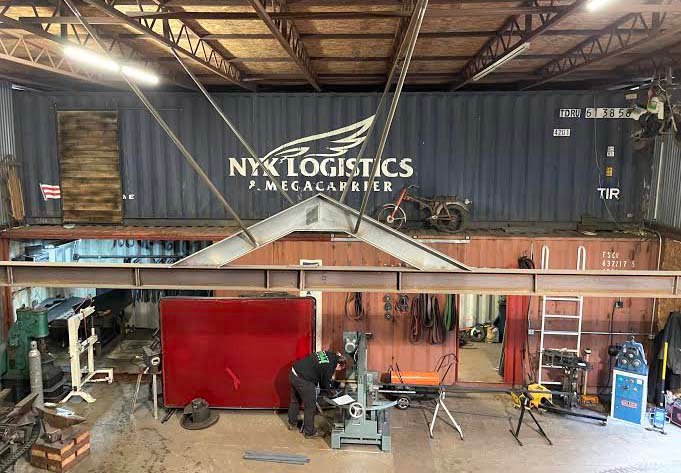 Steampunk Tank fun, complete with flame thrower, air cannon, water cannon, and powered by a nitrous driven 1200cc Harley motor… We had a little spare time and parts, and a bottle of tequila, so it seemed like a good idea.